Yesterday I got to go to the Los Angeles AG store, as I mentioned in my previous post. Unfortunately, due to nasty LA traffic and not leaving the house on time, I got a whopping 15 minutes to spend in the store, so all I could do was make a beeline for the items I had decided to get and no browsing for me. :( They need to put an AG store near San Diego.

Anyway, after the comments I got here and talking to a few people in real life I decided to get Cecile (she was never in doubt), the violin set, and Josefina's goat. I also got the chemise and crinoline for Cecile and was allowed to swap out her meet book for her mystery since I already own her six book set. Even though I didn't get to do any real browsing, I did get to see a couple of things in person that have changed my mind about a couple of things. First, I will be getting Josefina's feast outfit at some point. It's so pretty in real life - I love the colors! I need to figure out how they styled her hair in those braided loops though. Second, and this is actually pretty shocking to me, is that I'm not so sure I want Rebecca after all. I've been in love with her doll for a long time, but now that I saw her in person I'm thinking she photographs better than she looks in real life or something. She's still pretty, but she just wasn't wowing me the way she always has in the past. That honor went to Julie, even with her awful 70s outfits that are just ugly. But they're ugly in such a cute and charming way. This will merit much thought, but I'm considering getting Julie as my third doll instead of Rebecca eventually! Crazy flakes. I was also quite taken with Caroline when I saw her, which is another thing I was not expecting. And Wonderbread the Gymnast (er, I mean, Isabelle, who I kind of hate on principle) didn't look terrible in real life, though I have no desire to buy her. She should have been black, end of story. I boycott her for that reason alone (plus I'm not a big fan of the classic mold because it's boring and overdone.)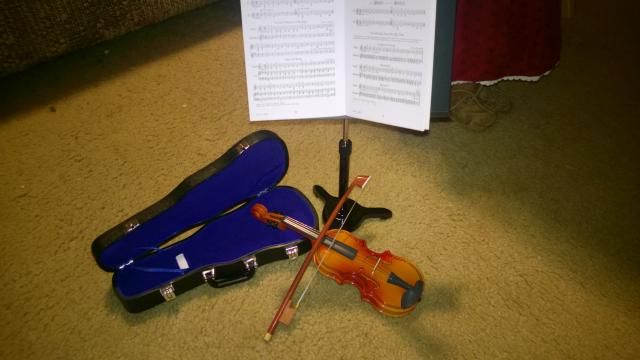 The violin set is adorable and incredibly detailed. I'm glad I got it, but the downside is that the dolls cannot hold it themselves so I will need to get some clear rubber bands to assist with that. So for now it's staying packed in its box, but my plan is to let Cecile have it eventually.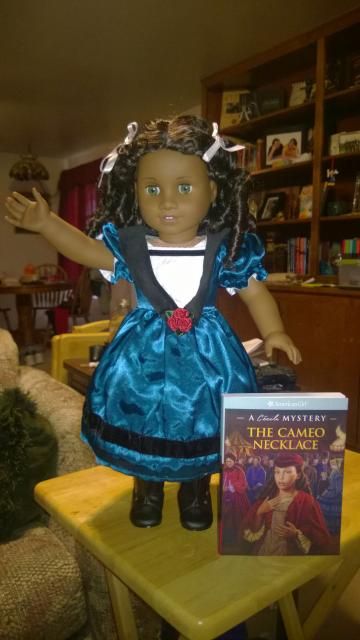 Cecile and her mystery say hello! This is the first AG mystery I'll have read; I hope it's good!

Since I got the violin set I couldn't quite afford the feast outfit, but I wanted to get Josefina something so after seeing how cute Sombrita is I decided to splurge on her. Then I staged a photo shoot of their meeting because I'm a dork like that.